Your Medina County Antique Power Association
The Medina County Antique Power Association is an organization of like-minded individuals and families who desire to keep alive the ways of farming with the mechanical equipment of yesteryear. We welcome all who are interested in farm equipment, lawn care, and other antiques used around the farm. You don't have to own a tractor to be a member. If you just want to learn about antique power equipment, then you belong in our club!   We normally meet on the first Saturday of the month at Guilford Town Hall at 6:30 PM.  Check out the bottom of the page for the next meeting date, time, and location.
This is a non-profit organization. We have a few shows every year and also participate in the Medina County Fair. Our big show is usually held in July and is a two-day event! This is when we promote our show book that we put together every year. It is a wonderful event for the whole family, featuring games for the kids, a small flea market, food and fun, and of course our exhibit of vintage tractors and equipment!
Our group likes to gather and have fun throughout the year. We would love to have you be a part of it! Dues are due between January 1st to March 1st and the cost for dues is $25.
-We are hosting our show on July 14th and 15th!
-Come and see us at the Medina County Fair from July 31st through August 6th!
-Our featured tractor this year is Massey Ferguson and Massey Harris!
Mark Your Calendars!
-Thursday, July 13th @ 6:30 in the historic Medina Square, Medina, Ohio
MCAPA, in conjunction with the Medina County Historical Society, will be reenacting the 1954 hay baler parade originally put on by the Medina Farmers Exchange Co.
Our parade route will begin in the Habitat for Humanity ReStore's parking lot.
We will then continue on to pass by The Exchange Market (formerly Medina Farmers Exchange Co.) and proceed north on South Court Street around the square.
We will then head west on Liberty Street to South Elmwood Street followed by Lafayette Road.
Our route will be completed upon entering the fairgrounds.
The balers will be on display for the next two days for our summer show!
Why A Parade?
Back in 1954, a gentleman by the name of John Wanko at the Medina Farmers Exchange sold a record number of New Holland small square hay balers that year. In order to celebrate the event, he organized a parade. Each new baler owner came in and hooked their tractors to the newly acquired implements. They were led by a Cadillac Convertible and other cars. In these automobiles were Lt. Gov. John Brown, O.C. Duke, and Miss Kunkle. Miss Kunkle served as the "Hay Queen" for the event. The parade had roughly 30 participants and was a spectacular event that many people came to witness.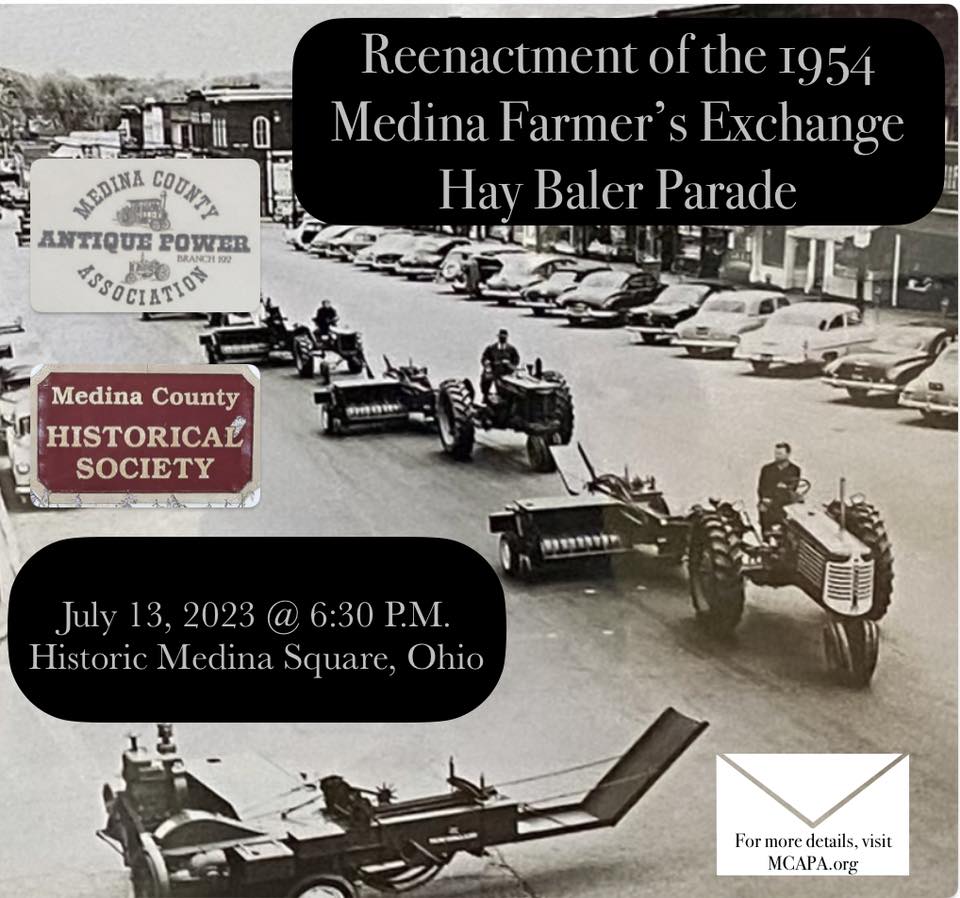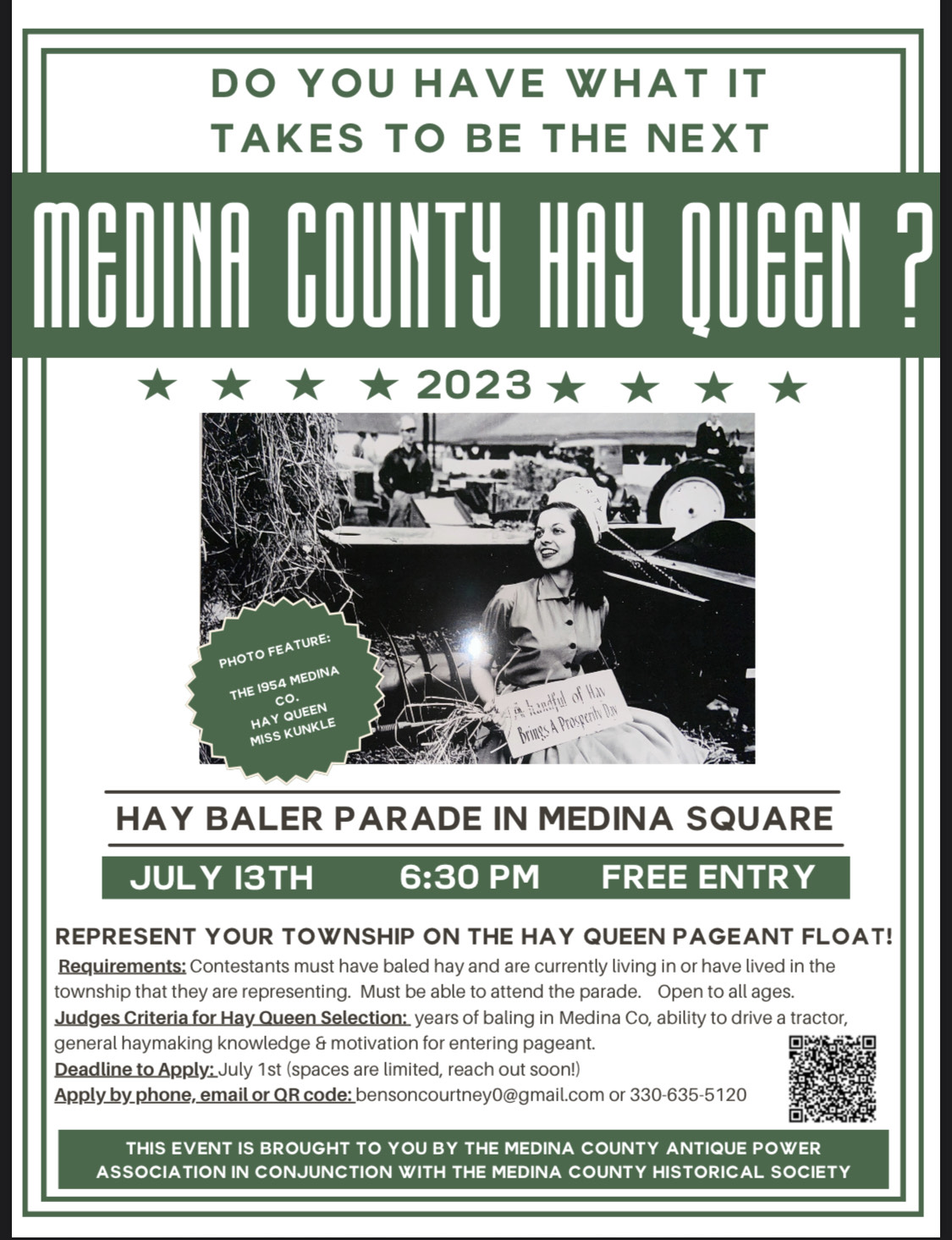 Are you a female resident of Medina County, Ohio? Do you have hay baling experience? Then check out the flyer above! Earn a spot in our baler parade and ride like royalty!
#ANTIQUEPOWER
CHECK OUT A FEW OF OUR PHOTOS
We love our tractors and our antique power! And we frankly don't mind showing them off! Sound like you? Contact us to join today! 
Stay tuned as we prepare to launch a new portion of the website: the classifieds! Here you will find vintage power for sale and wanted by our club's members.
OUR MISSION - MEDINA COUNTY ANTIQUE POWER ASSOCIATION
"MCAPA is a non-profit group of people interested in and actively pursuing the maintainance and restoration of antique power, farm machinery from the past, with a focus on helping the younger generation understand the importance of appreciating and preserving our heritage."
Our Meeting Schedule
Guilford Township Hall 3800 Greenwich Rd. Seville, OH 44273 6:30 pm, unless other wise stated.
January 7th

February 4th

March 4th

April 1st

May 6th

June 3rd

July 1st

July 14th and 15th (Show)

August at the fair (day of week TBA)

September (TBA)

October 7th

November 4th (Elections)

December (TBA)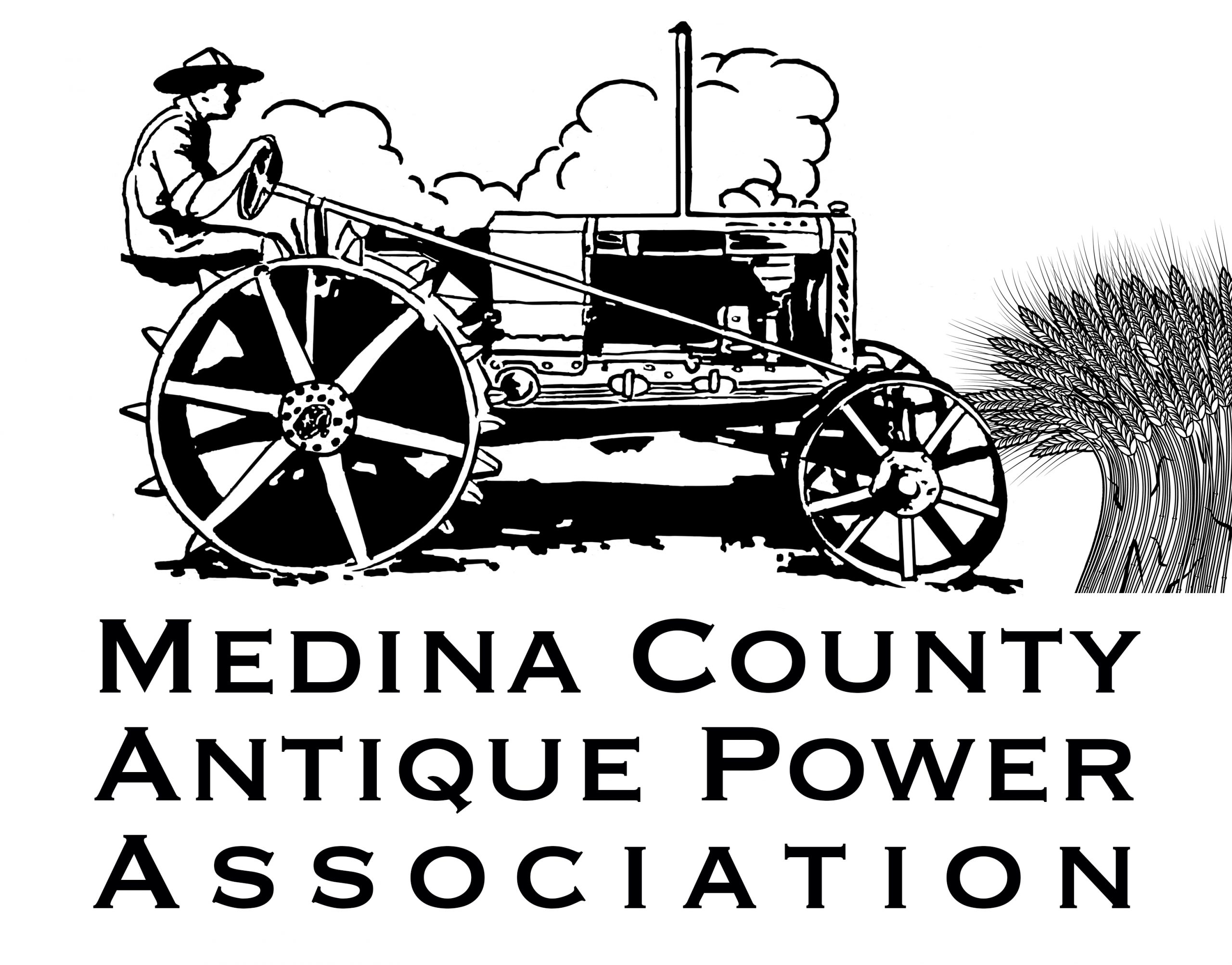 WE WOULD LOVE TO HEAR FROM YOU
If you have any questions at all, please feel free to reach out to us directly via the information above, or use this simple form to let us know what questions or comments you might have.